Transfiere, European Meeting on Science, Technology and Innovation
The main R&D&I meeting in Southern Europe to share scientific and technological knowledge, promote innovation and connect science and business.
A key professional and multisectorial forum for the transfer of knowledge, the improvement of competitiveness in the business sector and the generation of business and networking opportunities. Every year in Malaga, Transfiere becomes an unmissable event for Ecosystem Agents where they can establish new B2B contacts, network, find new partners, establish strategic alliances and synergies, as well as publicise new products, services and innovative projects.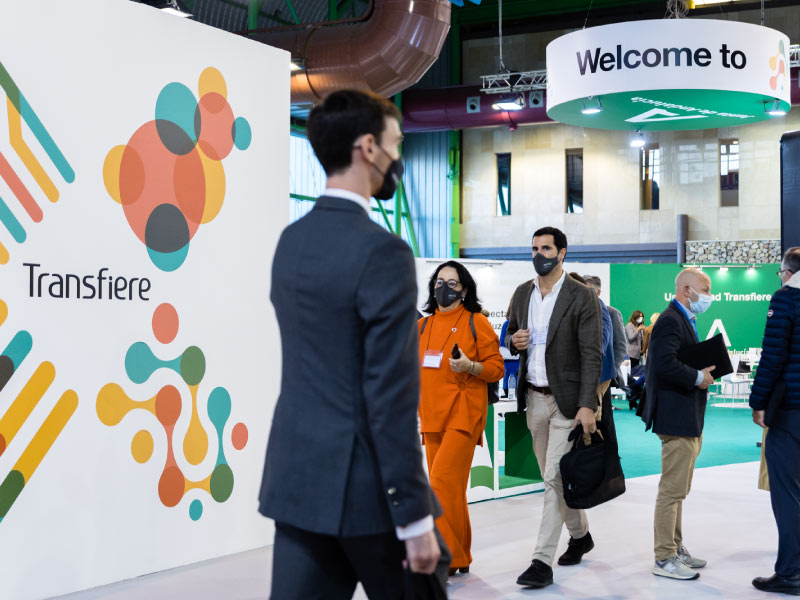 Dates
3 days: Wednesday 15th, Thursday 16th and Friday 17th February 2023
Schedule
Day 15th: from 9:00 a.m. to 7:00 p.m.
Day 16th: from 9:00 a.m. to 7:00 p.m.
Day 17th: from 9:00 a.m. to 3:00 p.m.
Venue
FYCMA – Trade Fairs and Congress Center of Málaga
Avda Ortega y Gasset, 201
29006, Málaga
More information
Professional Character
International Forum
Professionals participating at Transfiere have access to the exhibition area and content programme.
Aditionally, other participation options and bespoke proposals are available for companies, institutions and brands.
International Innovation Programme
The programme of thematic panels and conferences at Transfiere will provide the most detailed and up-to-date information on opportunities for internationalisation, AI, digital transformation and Industry 4.0, research and open innovation, public procurement of innovation and many other topics in multiple spaces, from the most respected voices in the scientific, technological and business spheres.
One of the first forums to present the tools needed to access and take advantage of the new Next Generation EU programme or European Recovery Fund.
Science Room
– Public procurement of Innovation
– Agrotech and NextTech
– Green hydrogen and renewable energies potential
– State of Art in Spanish Research
Innovation Room
– Nordic Ecosystem
– Public-Private Partnership models
– PERTE's session
– R+D+I Financing
Agora
– Corporate Venturing, Business Angels and Investment Funds
– Public-Private Investment
– Entrepeneurship, open innovation and talent search
– Master presentations
Transfiere in these 11 years

4 Demo Center editions
122 prototypes presented
7 editions
418 papers submitted
5 editions
24 technological challenges
372 side events
organised


11.100 entities
participants


+ 34.000 participating
professionals

+ 50.000 B2B
meetings held
These are some of the professional experts who have been part of the Transfiere Forum over the last 11 years, speaking on topical issues related to science, technology and innovation.
María Jesús Almazor
Chief Executive Officer Cyber&Cloud
Telefónica Tech
Jesús Alonso
Private Investor and Partner
Cupido Capital
Laura Delgado
Director of European Funds
Deloitte Legal
Cristina Garmendia
President
Fundación COTEC para la innovación
Juan Martínez – Barea
Founder and Executive President
Universal DX
Margarita Muñoz
Managing Director of Circular Economy
Mercadona
José María Siota
Almudena Trigo
Founding partner and president
BeAble Capital
Are you joining too?
Take part in Transfiere and connect with key players of the national and international R&D&i ecosystem.
Get in touch with our team by filling out the following form and we will get back to you shortly. Also, meet our team members in the contact section.